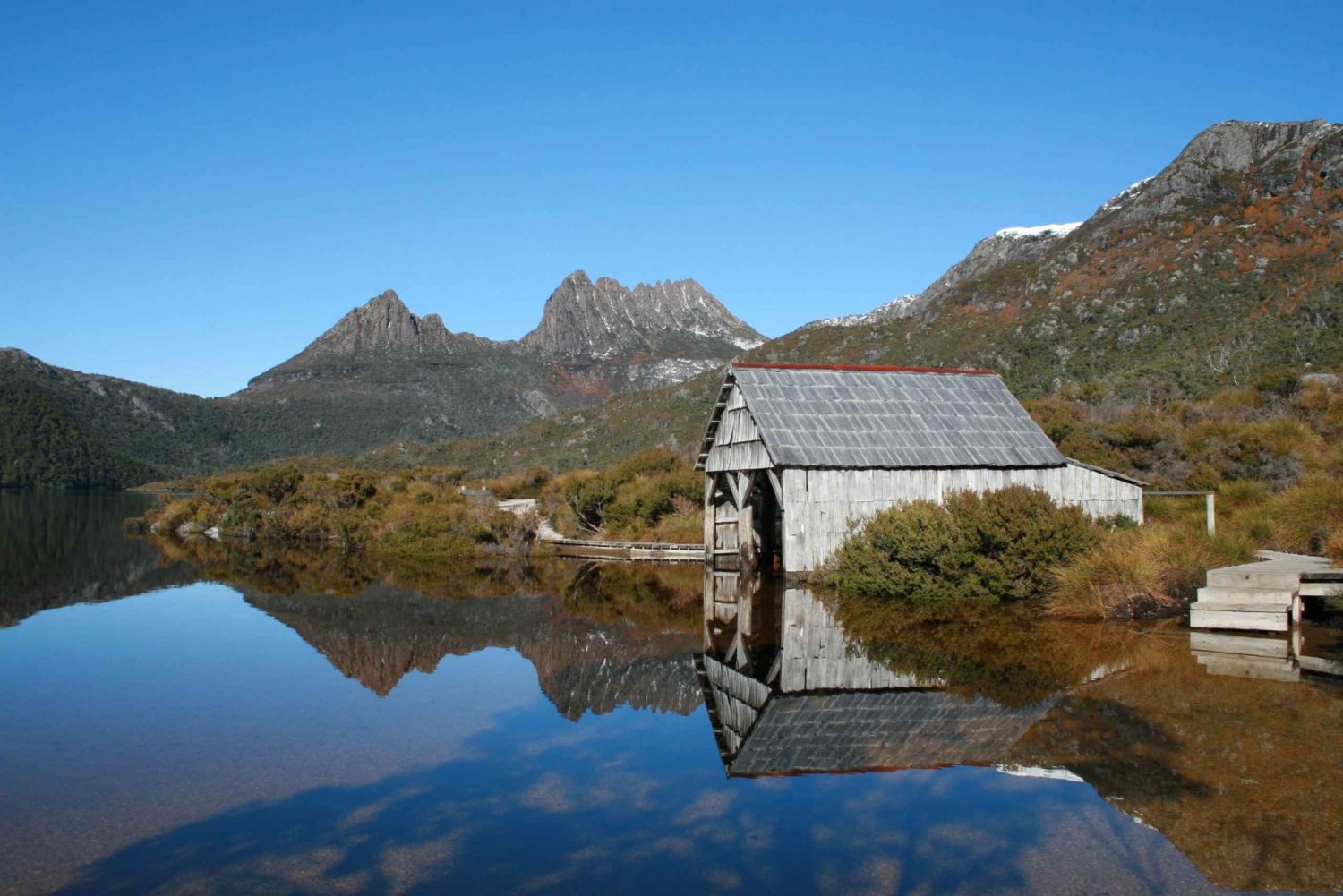 Event Details
Highlights
Explore Cradle Mountain National Park and World Heritage Area
Take on the Dove Lake circuit walk or, take on the harder walk to the lofty view
Visit Sheffield the 'Town of Murals' with over 30 murals painted across the town showing the history of the area
Walk along the Rainforest City and Pencil Pine Falls tracks
Enjoy a delicious stop at Van Dieman's Land Ice Creamery & Christmas Hills Farm
Description
Cradle Mountain's jagged silhouette is unmistakable. Standing 1545 metres above sea level amongst glacial lakes, alpine moorland and World Heritage Listed wilderness, this iconic mountain is pure untamed Tassie. On this full day tour, you'll score front row seats. After leaving Launceston we stop in the quirky town of Sheffield, the town of murals, a unique open air art gallery. From there we head into the mountains along winding roads fringed by rainforest to arrive at Cradle Mountain National Park. We begin our adventures with an easy guided walk to Pencil Pine Falls, a stunning cascade of pristine water. After that it's onto our main walk of the day, Dove Lake Circuit, a comfortable 6km circumnavigation of the glassy lake that sits at the bottom of Cradle Mountain. The views are epic. If you're looking for a challenge, tackle the hike to Marion's Lookout. An uphill climb rewards you with breathtaking views of Cradle Mountain, Little Horn, Smithies Peak and so many mirrored lakes. Our last stop is Van Diemen's Ice Creamery and Christmas Hills Raspberry Farm for well-earned treats crafted from the finest Tasmanian dairy and produce. A sweet end to a heavenly day.
Includes
National Park entrance fee Friendly and knowledgeable tour guides Informative tours and guided walks A small group limit of 20 people per tour Pick-up and drop off from selected hotels
Important Information
Please note, this tour is active and involves some walking. Although most of the walks are classified as easy, a suitable level of general health and fitness and physical abilities is essential.
This is an outdoor activity. Please dress appropriately for the weather conditions.
Minimum age to participate in the tour is 8 years.
There is no maximum age provided all participants have a sense of adventure and reasonable level of fitness and mobility.
Please bring, sensible shoes for walking, a variety of warm and weatherproof clothing, a hat, sunscreen and large water bottle.
Easy cancellation
Cancel up to 2 days in advance for a full refund