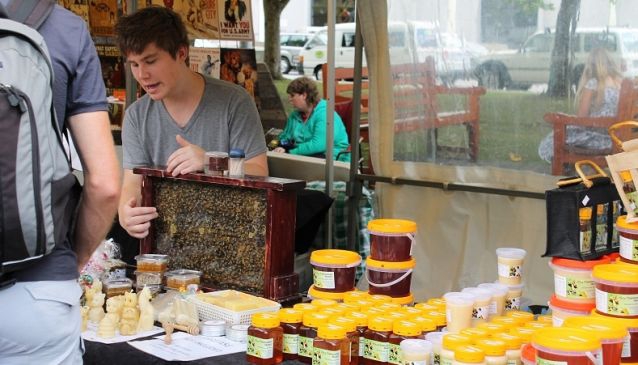 Tasmania's Pulse - Salamanca Market
Arts & Culture
The Salamanca Market in Hobart now has over 300 stalls and attracts up to 25000 people...
Reasons for going away on a holiday vary from having some relaxing quiet time away from the stresses of life, to yearning for thrilling, exciting adventures. When we return from a holiday, we like to think we have got to know the place we visited and spent time in; that we have felt its pulse and know what it is like. Well the best Tasmania attraction to achieve that is undoubtedly Salamanca Market.
From small beginnings of 12 stalls in 1972, the Salamanca Market in
Hobart
now has over 300 stalls and attracts up to 25000 people, making it the most unique place for shopping in Tasmania. It has a vibrancy and energy that is delightful and operates in the beautiful setting of Salamanca Place. The outdoor market comes alive every Saturday between the historic Georgian Warehouses and the lawns. In days past, the area was the haunt of sailors, whalers and merchants. The other side of the lawns is Hobart's waterfront where you'll find hardworking fishing boats as well as luxury yachts and everything in-between. Salamanca Place is the centre of
Tasmania attractions
, a cultural, creative hub with the sandstone warehouses now filled with artisans, galleries, cafes and restaurants. Only five minutes walk from the CBD, it is a great place to visit on any day, but is transformed on market day.
The colours, the smells, the sights, the sounds – it's full on for all the senses! With so many stalls the range of goods on offer is vast. There's no end of fine food: you will find organic fruit and vegetables, freshly-made bread using natural yeasts and organic flour, crepes, nuts, oven-baked potatoes, strudel, waffles, curry puffs, ice-cream and more – don't eat before you come! For the sweet tooth there are cakes, biscuits, jams, varieties of honey, fudge and chocolate. You will find fresh flowers and herbs, aromatic soaps and oils. Second-hand clothes, books and tools can all be hunted out. The artisans and craftsmen are in abundance with many well-crafted items made from the beautiful local timbers, hand crafted glass, innovative jewellery, unique clothing and non-conforming ceramics. It's a great family attraction too; there is the cheap and tacky which many love to receive as a gift. Our daughter loves her "Made in China" Tasmanian Devil oven-mitt!
You can easily fill your shopping bags at Salamanca Market, but the experience is so much more than that. It is a genuine place for locals and visitors to intertwine. To meet the makers, growers, creators of what they sell, or musicians who perform. Take time to meet the sock-maker who makes socks on 1920s machinery using pure merino wool, or the jeweller who specialises in Australian wildlife pieces and cares for orphaned or injured wildlife when time allows. There's the maker of natural skincare products whose suffering with eczema led her to rediscover old remedies and the leather man who makes things to last. You can talk with the buskers who might be local university students or members of a Latin American band that originally left Chile as refugees. These interactions can give greater meaning to the items you buy and the pictures you take. Other shoppers are just as likely to be locals as visitors, buying gifts or stocking up on fresh produce. All walks of life descend on Hobart at market time.
The sounds of local musicians are indeed part of the Salamanca experience. Some of the buskers are regulars, there most weeks. Others might only be seen the once or twice. On wending your way around the market who knows what you may hear this week. It could be an accordion, violin, harp, pan pipes, a barbershop quartet, even an old washboard! They are great to stop and watch whilst having a drink or picking up some Tasmania shopping.

Whatever you do give yourself plenty of time so you don't have to rush. Stallholders start packing up from 2.30pm onwards. Recently an information booth has started up on the lawns near the disabled parking and tour bus stop. Maps and information are available here as well as first aid and lost and found. On Saturdays Salamanca Place is closed to vehicle traffic from 5.30am-6pm, with the market operating from 8.30am-3pm. It operates every Saturday unless Christmas Day or Anzac Day fall on a Saturday, then the market will be on the Sunday. Website: www.hobartcity.com.au email: Salamanca@hobartcity.com.au phone: +61 3 6238 2711
For information on great attractions in Tasmania please come and visit us at My Guide Tasmania.