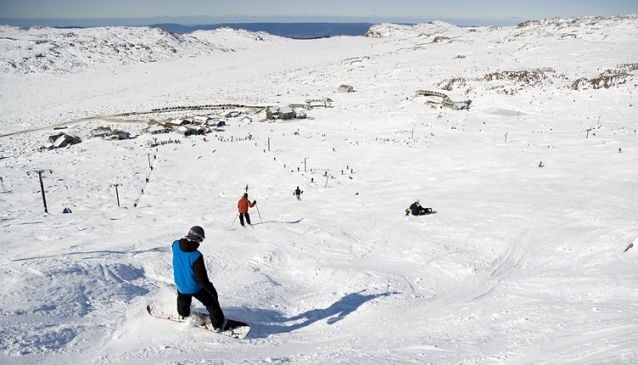 Ben Lomond National Park 
Adventure
Ben Lomond National Park has the state's premier alpine resort perched on its shoulders.
Shoop, Shoop, Shoop: Tassie's Premier Alpine Resort
When the temperature starts to drop off, many boardie-wearing, beach-loving Taswegians start to take particular interest in a certain peak in northern Tasmania.
This peak is not just the only vehicle-accessible ski resort in the state, it also boasts views that stretch to the ocean, sometimes as far as Flinders Island. Talk about unique.
Skiing
Ben Lomond National Park has the state's premier alpine resort perched on its shoulders. It's about an hour and a whisker drive east of Launceston. The first lifts started operating in the mid-1960's. Now there are seven lifts, equipment for sale and hire, accommodation, a café and transport up and down. And as of 2011 it also has snow making machines.
Ben Lomond's highest elevation is 1570 meters above sea level (a third taller than its Scottish namesake) so it always gets snow in the cold months, but with the introduction of snow making machines in 2011, it is now a more reliable ski destination.
To see the mountain's snow cover, visit the volunteer-run record here
A Family Destination
During the season, Ben Lomond is facilitated with activities for skiers, snow boarders, tobogganers and walkers of any age group and skill level. Equipment hire is available. Its ski school accepts beginners to experts in either private or group classes.
The family friendly lift prices help alpinist's families enjoy the slopes more frequently.
Plus the snow machines and snow guns top up the natural snow to keep learners and tobogganers entertained in their special designated area for longer.
Ben Lomond National Park
Ben Lomond is primarily a national park boasting lung-chillingly, eye-watering fresh air walks and hikes year-round. It's a diverse destination that caters in many mountain ways. It has an Aboriginal history, having once been home to the Ben Lomond-Penny Royal Creek people. And is currently home to a wonderful array of Tasmanian wildlife: which might even be persuaded to pose for a photograph or two!
Additional Information
For more information on the snowy side of things phone 03 6390 6185 during the season or 03 6327 2477 preseason.
Radio stations 7LA, 7AD, 7BU and 7SD broadcast a snow report at 6:55am Monday to Saturday during the season.