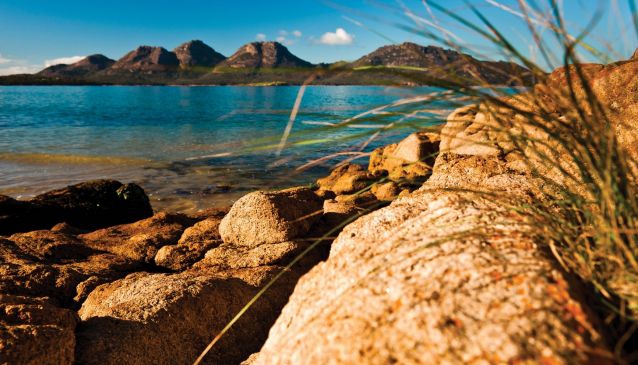 Going Bush in Tasmania's National Parks
Adventure
Tasmania has the largest percentage of landmass reserved as national park in all of Australia
Whether you are looking for the ultimate outdoor adventure, want to get off the beaten track and discover wilderness like you've never seen it before or you're just looking for a way to travel Tasmania on a budget – Tasmania's National Parks have it all.
In fact, you haven't discovered the soul of Tasmania until you've visited one of its magnificent parks and reserves. Fortunately, you won't have to travel far. Tasmania has the largest percentage of landmass reserved as national park in all of Australia – a total of nearly 21 percent. If you include the many state reserves and conservation areas, a staggering 37 percent of Tasmania's land mass is protected.
Tasmanians have a deep-rooted sense for preserving their unique nature, although this wasn't always the case. Astonished by the natural wealth of the island, the first European settlers exploited many natural resources to near extinction in the 19th century.
Whether the Tasmanian drive to preserve its rich habitat grew out of this early thoughtless exploitation of the land, or whether the island's natural beauty speaks for itself – today Tasmania sets a benchmark when it comes to preserving flora and fauna.
The well-organized Parks & Wildlife Service maintains Tasmania's national parks, reserves and conservation areas. The organization not only looks after the parks and conserves its natural and cultural wealth; many of the parks have enthusiastic rangers offering eye-opening guided tours and walks.
To visit Tasmania's national parks you need a Park Pass. For $24 per vehicle, a Day Pass gives you entry to all national parks for 24 hours. If you are in Tasmania for a bit longer, it's worth getting a Holiday Pass, which is $60 per vehicle and allows you to visit any national park for a period of eight weeks. Single travellers on public transport or travelling on a motorcycle or bicycle pay half price. Passes are sold in visitor centres around Tasmania, on the Spirit of Tasmania or you can purchase them online.
Bush camping
If you are self-sufficient, bush camping is an excellent way to become part of Tasmania's great outdoors. Most national parks and reserves have basic camping facilities – including a toilet and running water, although mostly untreated. As most visitors to Tasmania will witness, a warm and sunny day can turn foul with the blink of an eye, so be sure your gear is weather proof if you are planning to camp. Some campsites are free; others charge a small fee (usually around $13 for 2 adults).
Most places don't take bookings and offer self-registration. A few of them such as the campsites in the Freycinet National Park get very busy during summer and have introduced a ballot system, which is drawn a few months ahead. Other highly popular destinations such as Cradle Mountain and Lake St Clair have private operators running the campsite and booking ahead is essential.
The "take in, take out" principle applies to all national parks, meaning that there are no rubbish bins provided and you are responsible for removing all waste that you take in.
Tassies's most popular parks
There are 19 National Parks spread across the state, including three on the small islands around Tasmania. Some of them form part of the Tasmanian Wilderness World Heritage Area. This UNESCO-listed region encompasses about one fifth of Tasmania and is considered to be one of the last true wilderness regions in the world, harbouring a wealth of natural and cultural heritage.
If you are in Tasmania for a longer period of time, pick up one of the Visitor Guides to Tasmania's National Parks and Reserves, which gives a valuable overview of all the parks' features and facilities. Here is a short introduction into Tasmania's most visited parks:
Cradle Mountain – Lake St Clair National Park
This park is often named among Australia's most beautiful places to visit and it's easy to see why: snowy, cloud-touching mountaintops surround mystic glacial lakes that quietly reflect the stunning scenery. Every breath of this fresh air is a spa bath for the lungs. Underneath giant ancient pine trees visitors can encounter Tasmania's iconic marsupials such as the Tasmanian devil and the spotted-tailed quoll.
The Overland Track, one of Australia's most popular multi-day hikes, runs north to south right through the park, taking in Tasmania's highest mountain as well as Australia's deepest lake. But you don't need to be an experienced hiker to witness the park's beauty; There is an abundance of short walks and guided tours through both the Cradle Valley as well as around Lake St Clair.
Freycinet National Park
You won't find a souvenir shop in Tasmania that doesn't display a photo of the picture-perfect Wineglass Bay: A rolling inlet of turquoise ocean enclosed by a fair line of white beach underneath a deep blue sky.
A steep short hike takes you up to this popular photo spot, but the Freycinet National Park has a whole lot more to offer. The lush eucalypt forests make an ideal habitat for wallabies, echidnas, wombats, pademelons and plenty of birds. The park is most popular for its many great short walks, but you can also do rock climbing and kayaking.
Tasman National Park
The Tasman Peninsula has a lot more to offer than just the impressive ruins of Port Arthur. The relics of Tasmania's convict past are nestled in between a stunning coastal landscape including Australia's tallest cliffs.
The National Park encompasses most of the peninsula's dramatic coast including the spectacular Cape Hauy, Cape Pillar and Cape Raoul – all three can only be reached on foot. During the summer, the Fortescue Bay is a magical place for a camping holiday. The park also incorporates several offshore islands to protect a wide range of land and marine animals.
Main Image Credit: The Hazards, Freycinet National Park. Tourism Tasmania & Justin Malinowski