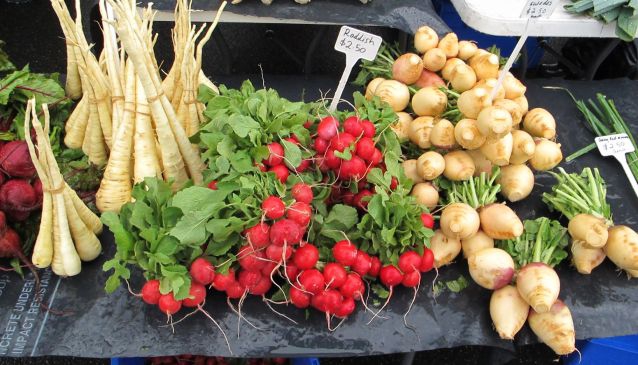 Harvest Launceston
Food & Drink
There is a satisfaction in knowing where our food comes from, in meeting those who produce it
Vegetables from Vana, granola from Simon, brownies from Susie, dairy products from Joe, artisan bread and pastries from Manubread, rhubarb products from Holger. The list goes on, as an ordinary carpark in inner–city Launceston transforms each Saturday morning. Tasmanian growers and producers come together to sell their offerings direct to customers at Harvest Launceston. Launched in February 2012, its success is attested to by its return customers, as well as being awarded the national winner of the Outstanding Farmers' Market Category at the 2013 ABC Delicious Produce Awards.
There is a satisfaction in knowing where our food comes from, in meeting those who grow and produce food that we are going to eat. Last Saturday, as I shopped, I chatted with Vana, who as a young girl arrived as a refugee from Laos with her family. Her fresh vegies looked amazing and result from a lot of effort, working seven days a week. You will find the likes of silverbeet, radishes, beetroot, coriander and parsley, along with the less familiar tatsoi, choi sum, pak choy and mizuna.
Susie was attending her first Harvest Launceston as a producer on her brownie stall Modo Mio Naked. Modo Mio means 'my style'. The recipes are her own and flavours include peppermint, mocha, quadruple chocolate, walnut and salted caramel. Eight friends served as taste testers – one of those tough jobs someone has to do!
Holger from Rhubru started five years ago to the day. His wife's cousin grows lots of rhubarb -like 25 hectares- near Scottsdale and some ends up being too big/too small for supermarkets. This led to them thinking about what they could make, with their first product being Rhubru, a rhubarb drink. Rhubru has now expanded into 18 products, including rhu jelly, rhubarb and ginger cordial, rhubarb relish and rhubarb compote.
There was Simon, who on moving back to Tasmania from the UK was looking at working in the service sector of the high end tourism market, whilst the second string to the bow was making granola. Well, Day Time Food has taken over with good demand for their now six varieties of granola using all Tasmanian products, plus granola bars.
Joe from Elgaar Farm was there greeting regular customers returning their empty milk bottles for full ones. Elgaar Farm is a successful producer of organic dairy products. They stock many interstate outlets and struggle to keep up with demand for their products, which include milk, cream, yoghurt and cheese.
Wander around, you will find plenty to eat and drink whilst there, and lots to load up with to take home. Apart from the fruit and vegetables and the already mentioned produce, you are likely to find honey, olive oil, meats including game meats, salmon, flowers, plants, herbs and seedlings. Even biscuits for your dog! Stall holders change especially with seasonal produce and regulars may have a week away. The Harvest Launceston website publishes who is coming to the market each week via the newsletter.
There is an area to sit down and eat, meet with friends or rest your legs. Enjoy the likes of a pulled pork taco from Mount Gnomon Farm. Eliza made one up for us with pork from their free range Wessex Saddleback pigs, kasaundi from Eureka Farm, cream from Elgaar Farm and coriander from Vana. Their sausages come in a Legana Bakery bun with plum sauce from Rocky Gardens, both of whom also have stalls.
Harvest Launceston is a weekly celebration of the delightful food we can produce here in Tasmania. Rain or shine go along – the stallholders will be there having started their preparations for the day whilst most of us are still in bed.
Volunteers man the entrances and a Harvest Launceston stall, so if you have any questions about the market, wish to receive the newsletter or would like to sign up as a volunteer, have a talk with them. The stall also has lovely, large, red umbrellas to loan whilst at the market which can come in handy on days of inclement weather.
Harvest Launceston is also a triumph of how one person's idea (in this case that of Jenny Edis), with the right help and support can become a reality, contributing positively to our community.
What: Harvest Launceston
Where: Cimitiere Street carpark (opposite Albert Hall)
When: Saturday morning, 08.30am-12.30pm