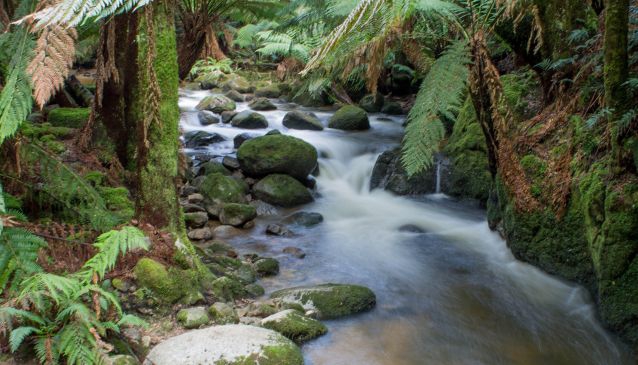 Pyengana, Tasmania
Arts & Culture
One emerging town, where farming meets wilderness meets food, is St Helens' country cousin: Pyengana
One emerging town, where farming meets wilderness meets food, is St Helens' country cousin: Pyengana, a lesser known masterpiece of Tasmania's North East coast located just 30 kilometres inland.
Pyengana is an unlikely gem offering many go-to places amongst its blankets of pasture, forests and food stops. A wonderful variant to the sun soaked sands of St Helens.
Pub in the Paddock
Perhaps the most unique of the Pyengana must sees is the Pub in the Paddock, where Pricilla the pig greets you with her sparsely haired chin and greedy little eyes. She is after a drink, as her sign suggests, so why not ask the staff in the pub if you can get her what she wants? Apart from its pig, the Pub in the Paddock offers accommodation, meals and take-away. It is located on Saint Columba Falls Road, a turn off the Tasman Highway.
Pyengana Dairy Company
Just up the road is the Pyengana Dairy Company, locally known as the cheese factory. A place with divine eats, keepsakes and somewhere for the kids to run around. Here there are free cheese tastings and a chance to get a glimpse of a working dairy. While the Pub in the Paddock is hearty, the cheese factory is modern. It also has local hand-made merchandise and ice cream.
Saint Columba Falls
Pyengana is not just about good food and farmland. It also has the Saint Columba Falls which, as you will see from the road, is a spectacular 90 metre free-falling waterfall amongst the greens of the myrtle and sassafras and the contrasting granite. The track to the falls gives the opportunity to trail up and down through rainforest that offers shade on a hot day. Underfoot is a pleasant padded track made of soft fallen leaves.
Halls Falls
One kilometre north east of the Saint Columba Falls Road is Anchor Road, off the Tasman Highway, home of Halls Falls. To get to the main event you follow a level track amongst the man ferns, offering a quieter glimpse of a duel waterfall and gurgling river. Giving you a generous glimpse of the Blue Tier Forest Reserve, Halls Falls has a few routes to choose from and is 40 minutes well spent.
Anchor Stampers
Also located on Anchor Road is the Anchor Stampers. As I write this the track to the Anchor Stampers is closed, but it is worth taking a look to see if it has reopened (let us know if it has)! The Anchor Road tin stampers offers a rare opportunity to see the ingenious workings of part of a yesteryear mining process that was powered by water. It also reveals just how quickly nature is able to gobble up a chapter of history. But do take note: the tin stampers is announced by a mere broken sign reading "Anchor Stampers" and if you blink, you will miss it.