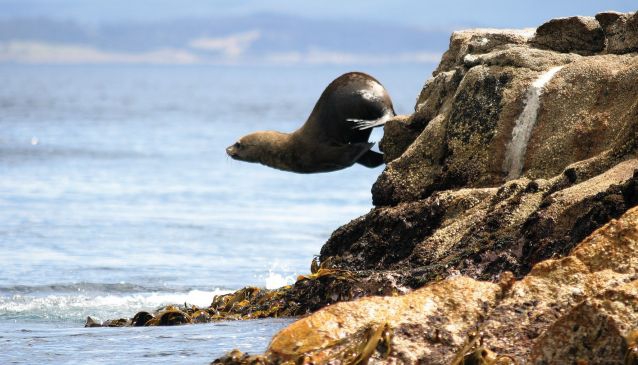 Untouched Nature on Maria Island
Editorial
Spending the night on Maria allows you to experience the island's wildlife to the fullest...
Imagine you could find a place on Earth that was free of civilization's diseases, pests and parasites, a place where endangered species could have a second chance at life. Well, such a place might just exist...
Maria Island lies off Tasmania's east coast, a small landmass under 'down under', thoughtfully protected as a national park. With no human population and free of motorized vehicles, Maria Island is a peaceful natural paradise with quiet beaches, stunning cliffs, secluded mountains and a rich diversity of wildlife. In a bid to protect their kind, a number of threatened species have been brought to the island, where they remain untouched by feral predators and fatal diseases.
A new chance of life for threatened species
Next to the native pademelons, introduced species such as Forester kangaroos, Bennett's wallabies and Cape Barren geese live a peaceful and reproductive life on the island.
The threatened Tasmanian Devil, Tasmania's flagship marsupial, might also soon find a new home on Maria Island. Since the outbreak of the Devil Facial Tumour Disease in the mid 1990s, populations of this species have decreased dramatically, especially in eastern Tasmania. The Parks & Wildlife Services Tasmania is currently discussing a proposal to translocate some healthyTasmanian Devils to Maria Island, where they would hopefully remain unharmed by the lethal tumour.
A stormy past
In the history of 'Maria' – as the island is called – those animals are not the only ones who have received a second chance. During times when the British were still shipping their convicts off to Australia, Maria originally served as a penal settlement. However, being located relatively close to shore, the island soon became infamous for the number of escapes and was known among convicts as a place of ease.
Soon the convict settlement was abandoned in favour of Port Arthur and was turned into a probation station; whoever followed the rules and worked hard on the farm lands, could eventually pay one's due and earn freedom.
Sleeping like a convict
Some historic ruins, as well as a few well-maintained buildings from Maria's short human history, still remain in the former settlement of Darlington, which was erected in 1825. Today, these buildings serve as the ranger's office and a small museum that tells the tales of the island's convict past. The old penitentiary today offers the island's only roofed accommodation; guests spend the night in very basic three-layered bunks, next to an open fireplace. Camping on one of the island's campgrounds might be a less eerie option.
Daily connections to Tasmania's east coast
Spending the night on Maria gives you the opportunity to experience the island's wildlife to the fullest; most of the action happens at dusk, when the beaches are packed with wallabies and the birds get settled in the trees.
However, most visitors come on day trips from Tasmania's east coast. The Maria Island Ferry travels from Triabunna to Darlington and back twice a day during summer; in winter connections are less frequent.
An outdoor adventure
If you take a close look, Maria actually consists of two islands which are connected by an isthmus. Along the coast you will find isolated beaches and picturesque cliffs of sandstone and limestone, like the Painted Cliffs, which you can reach on an easy short walk from Darlington.
Hiking tracks meander through the entire island. The island is also ideal for cycling and a limited number of bikes can be hired from the ranger's office in Darlington. Snorkelling is another popular activity, particularly around the Darlington jetty. However, you will have to bring you own gear.
An island far, far away
Maria is an island far, far away from the hustle and bustle of modern civilization, but also away from its comforts: You won't find any shops or restaurants on the island and you will have to be self-sufficient. However, if you plan your journey to Maria well, you will find a magical place that invites you to become part of its carefree and unhurried lifestyle.
Love Donna's account of Maria Island? You may find the following useful!
Things to do in Tasmania
Accommodation in Tasmania